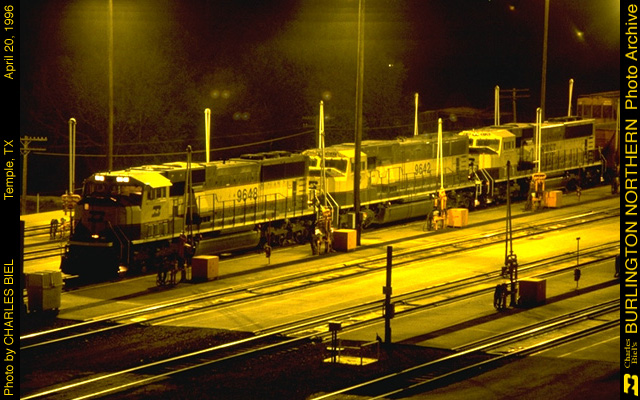 Click here to download BN9648.JPG by Charles Biel
---
What's so special about this image? It's certainly not the best one I have posted, but it is image 1001! That means I've finally reached my first goal for this site. Yes! Ah...where's that can of Mountain Dew.... I kind of like that little BN logo in the corner - I may have to standardize on that.
---



Locomotive info:


Locomotive  Builder     Date       Date       Date    Previous Owners &
  Model:    Number:    Built:    Rebuilt:   Retired:    Road Numbers:
 
 SD70MAC    ???????   ??/??/??   --/--/--   --/--/--      ---- ----



Notes:


I guess there are a couple of special things about this image:

1) I think it's the first night shot I've posted.
2) It is definitely the first shot I have posted with a BNSF unit - 9726.



Modeler's notes:






Sources of Information:




---
This home page was created by and is more or less maintained by Charles Biel. To contact him for any reason you might have, e-mail cbiel@sbcglobal.net


This web page is made from 100% recycled electrons.
Last updated: 6/9/96